I've completed the Green and Grey scarf. The best part about fringe? No ends to weave.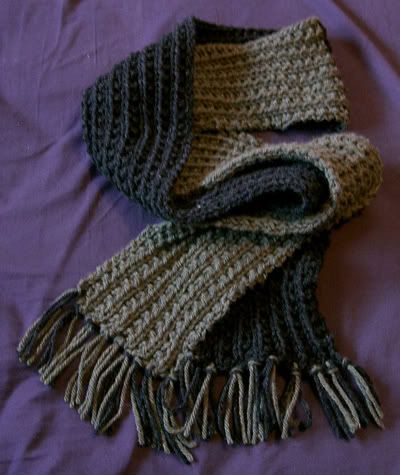 The whole thing, artistically arrayed on, yes, my bed. Yes, we have purple sheets. I cannot defend this move except to point out that we've got two comforters (one in light blue with colorful stripes, the other black with dragons in white), and that the walls are orange. Just, you know, work with me here.

The completed product clocks in at just over eight feet long. It's heavy but loose and springy and stretchy, mostly owing to the gauge, as well as the lush sproingy-ness of the farrow rib stitch.




This is a close-up of the stitch pattern so you can get a better idea of what farrow rib looks like. Basically, it's a combination of three things: columns of knit, columns of purl, and columns that alternate. To do farrow rib, cast on a number of stitches that's a multiple of 3, then add one at the end.

Row 1: k1, p2, repeat until you've only got one stitch left, and then knit it.
Row 2: p1, k2, repeat until you've only got one stitch left, and then purl it.

Repeat until such time as you'd rather do something else.

This scarf used two skeins of Lion Brand Wool-Ease Chunky, one in "Willow" and the other in "Charcoal," and was knitted on size 13 needles. It's 22 stitches across.

Hey, look! I'm an ill-tempered scarf ninja!